Regular Price:


$45.00

You Save:


$21.00

Discount:


47%
Share with Friends!
Expires: 10 November 2013
Other Deals in Detroit
Wine-Education Class with Snack Pairings and Wineglasses for Two or Four at House Wine (Up to 51% Off)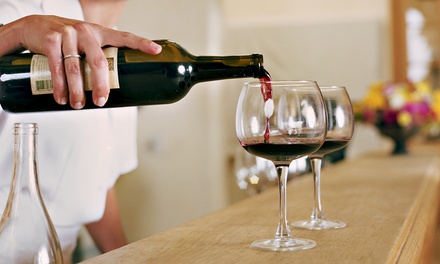 About the Deal
Daily Deal Superstore – hunting out the best deals for you.
Like hearts, wineglasses are fragile, full of goodness, and frequently broken.Live life to the brim with this Groupon.
Choose Between Two Options
$24 for a wine-education class for two (a $45 total value)
$44 for a wine-education class for four (a $90 total value)
Each pair receives:
Class with snack pairings (a $30 value)
One reusable wine bag and two travel-ready stemless wineglasses from govino (a $15 value)
Local wine experts educate students on topics concerning vintages from around the globe and down the block. Don't miss this amazing offer. Classes are held on Tuesday at 7:30 p.m. and Saturday at 5 p.m. Groupon customers will also receive a coupon for a free appetizer or dessert with purchase of an appetizer or dessert on their next visit.While wine is not included with this Groupon, tastings are available for purchase at $10 per person.
Deals like this just take your breath away.
About Detroit
Grab the Hottest Deals in Detroit at the Daily Deal Superstore
The Motor City, Detroit in Michigan is the home to brands like Ford, General Motors, and Chrysler. There are a lot of neighborhoods with communities that absolutely love entertainment, sports, recreation, dining, fitness, and many more activities. The Daily Deal Superstore offers over 90% discounts and great daily deals in Detroit whenever you want.
Our deals and offers are sourced from top websites like Living Social, KGB, Restaurant.com, and many more. You can find thousands of deals in Detroit for activities, products, and services including shopping, dining, travel, medical services, hotel accommodation, tours, and many more.
If you are stopping for a salad break at the Casual café, you can get vouchers to get discounts on your bill at the salad bar for less than $6. We also offer you over 60% discount for unlimited yoga classes. Transform your car at half-price rates at Carsmetology. Share the daily deals with friends too.
Watch out for our biggest discounts and deals for areas of Detroit such as Woodward Avenue, Downtown Detroit, Greektown, Midtown, and more. You can even find deals in shopping, dining, nightlife, adventure, travel, and much more in other areas of Michigan like Auburn Hills, Eastpointe, Lasalle, and Dearborn Heights. Enroll with us at the Daily Deal Superstore website and we will send you new deals and offers daily, to your inbox, for Detroit and anywhere else you want to go.
More Deals You May Enjoy
Indian Palace Restaurant
Red Pepper Cafe
Cuatros
Javelina Bar
Wink
Urban an American Grill
Mijo's Tex Mex & Cantina
HILL-BERT'S BURGERS TOO CENTRAL
Revive! Wyndham Garden Inn
The Parlor
Hill-Bert's Burgers
Pizza Bistro
Thai House
Jalapenos Taco Bar
Midtown Live Sports Cafe
Wasota African Cuisine
Limestone @ The Marriott
$12 for $20 Worth of Traditional and Austin-Inspired Sushi at Rol…
Pizza Land
La Chaparrita Peruvian Restaurant
Voss Fish and Grill
Austin Owl Club
Bess Bistro on Pecan
The Emerald Restaurant
One or Two Groupons, Each Good for $10 Worth of Pizzeria Food at …